Vancouver's Waterfront Community
The curves of the Columbia River hold a wealth of cultural and recreational experiences for visitors to explore. From shopping and dining to water sports and parks, Vancouver's waterfront community continues to grow.
What does a day at The Waterfront look like? Plan to grab a fresh seafood dish on the WildFin patio while watching sailboats pass by the 90-foot Grant Street Pier. A gathering place for all who visit The Waterfront, the cable stay pier is the focal point of City of Vancouver's new waterfront park, complementing the surrounding $1.5 billion project by Gramor Development. Sip on an IPA at the second-story Barlow's Public House or a Washington wine at Maryhill Winery's newest tasting room. Head to Twigs Bistro if a martini is your drink of choice, or just enjoy a tasty supper while the sun sets on the horizon. For a riverside retreat on The Waterfront, stay at the Indigo Hotel—a unique and vibrant boutique property that exudes the local culture.
Bring the kids to play in the City of Vancouver's new 7.3-acre Waterfront Park that features an open lawn for cartwheels, an urban beach for sandcastles, and seating areas perfect for picnics. The Columbia River Waterfront Renaissance Trail connects to the park, extending the current five-mile trail from Vancouver's urban core to Wintler Park.
At the adjacent Terminal 1, the Port of Vancouver is planning a public marketplace that will supplement downtown's thriving Farmers Market, a trendy Marriott AC Hotel, and commercial and community spaces for all to enjoy. Stop by WareHouse '23 for bold and diverse flavors, drawing from the riverfront location with a seafood-heavy menu.
Stay up-to-date with the The Waterfront development by checking out the live web cam footage of the site as it undergoes construction.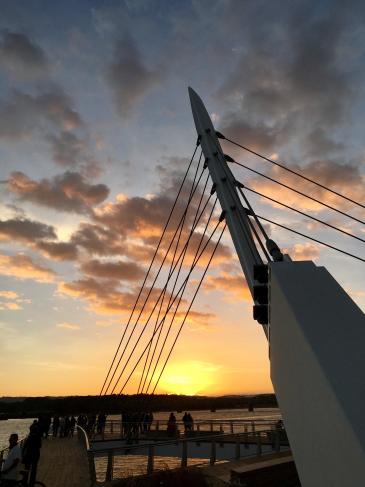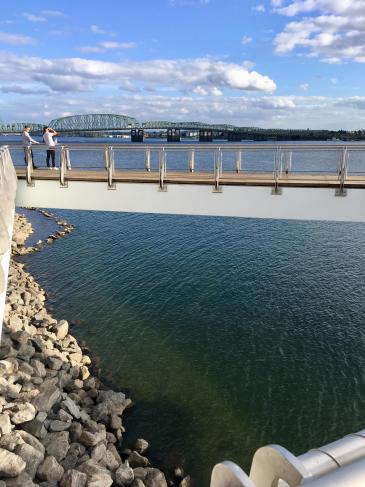 Waterfront Dining
Looking Ahead
2018
Grant Street Pier, Waterfront Park, Twigs Bistro & Martini Bar, WildFin American Grill, The Murdock (office building), Rediviva (apartments)
2019
Maryhill Winery Tasting Room, Barlow's Public House, RiverWest (apartments), Pizzeria Sul Lago, Stack 571
2020
Hotel Indigo, Residences at Kirkland Tower, El Gaucho
2021
AC Marriott
2022+
Port of Vancouver Public Market (estimated 5-10 years)