St. Patrick's Day got the short end of the stick as the first holiday disrupted by COVID-19 one year ago. We all deserve a little celebration, even if it's small. Start your day with a green energy-booster or finish off the 17th with a boozy beverage sure to put you in the Irish spirit.
Morning Mood
Whether your AM is filled with caffeine or invigorating blended fruits and veggies, go for the green this Wednesday. Latte Da Coffeehouse fully embraces the holiday all month long with coffee creations like the Leprechaun Fizz (Irish cream Italian soda with shots of espresso) and the Celtic Knot (white chocolate mocha with honey-vanilla syrup). Creed Coffee Co.'s unique drinks include the Nutty Irishman, Mai Tai Lotus Energy, and a Mint Macha. Roll up to Dev's Coffee Bar for an Oatey Irishmen full of hazelnut and Irish cream flavor, or the Frozen Leprechaun for peppermint paddy mocha bliss.
From self-care smoothies to juices that fight inflammation, you can always find something green on Be Well's tropical menu. Direct your eyes to the Green Queen or the Be Illin' on Mighty Bowl's list of nutrient dense and hydrating green juices sure to kickstart your day.
Dev's Coffee Bar (left) and Be Well (right)
Boozy Bevs
Rally Pizza knows how to turn any ordinary day into a celebration—pre-order a Shamrocker and Irish Coffee Shake or a Pot O' Gold cocktail featuring Green Chartreuse. Choose the classic lime flavor at Jorge's Tequila or Margarita Factory, which always offer a rainbow of options for their signature drink. A heated debate among brewers, green beer can be hard to come by. McMenamins on the Columbia has been known to serve up pints of tinted hops, but at the very least, find a creamy Irish Stout and a warm Irish Coffee on the menu all week long.
We'd be remiss to bring up St. Patrick's Day in Vancouver USA without mentioning Shanahan's and Grady's, the city's two Irish pubs that never have a shortage of Jameson or Guinness on hand. And while not doing a full parade around town this year, catch the Fort Vancouver Pipe Band in front of Main Street's Kiggins Theatre on their grand re-opening from 5:30 to 6 p.m. before a showing of "The Quiet Man." Psst: Green beer has been promised!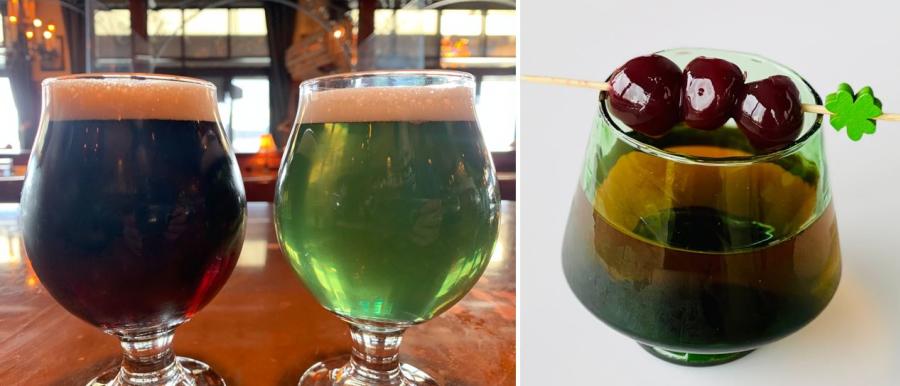 McMenamins on the Columbia (left) and Rally Pizza (right)