COVID-19 (coronavirus) Information
Visit Vancouver USA is closely monitoring developing information about COVID-19 (Coronavirus). As of June 5, Clark County has moved into Phase 2 of Washington's phased reopening plan. While we strive to update this page, we encourage you to check with individual parks, businesses or facilities before departing.
Health and safety for our visitors and residents is our top priority, and we will follow guidance from local, state, and national health officials. As we adapt our messaging and programs of work, we will continue to focus on support for local businesses, sustainable tourism to our natural places, and connecting visitors to authentic experiences. See below for a list of resources, updates, and known event changes. Please be aware that the situation with this virus and reopening continues to evolve rapidly.
Updated July 9, 2020
Resources
City of Vancouver 
These emergency orders are still in affect:
Cancellation of city-operated special events and city-permitted events with planned attendance of 250 or more through Aug. 31, 2020
Public farmers market operating on public land with a City-approved operation plan and City-issues Fire and Life Safety Permit through July 31
Water Resources Education Center closed through July 31
Clark County
On June 5, Clark County was approved to move into Phase 2 of the Safe Start Washington reopening plan. 
Phase 2 allows a variety of businesses to reopen, as long as they can follow industry-specific guidance issued by the governor. Businesses eligible to reopen in Phase 2 include hair and nail salons, barbershops, and real estate.
Retail stores can open for in-store purchases and restaurants can resume dine-in services with limitations on the number of diners. Each restaurant can operate at <50% capacity with tables no larger than 5 and no bar seating.
Phase 2 also allows for small gatherings of no more than 5 people from outside your household per week.
While we're moving forward, it's still important to be vigilant about washing your hands, not touching your face and disinfecting high-touch surfaces. Physical distance remains crucial.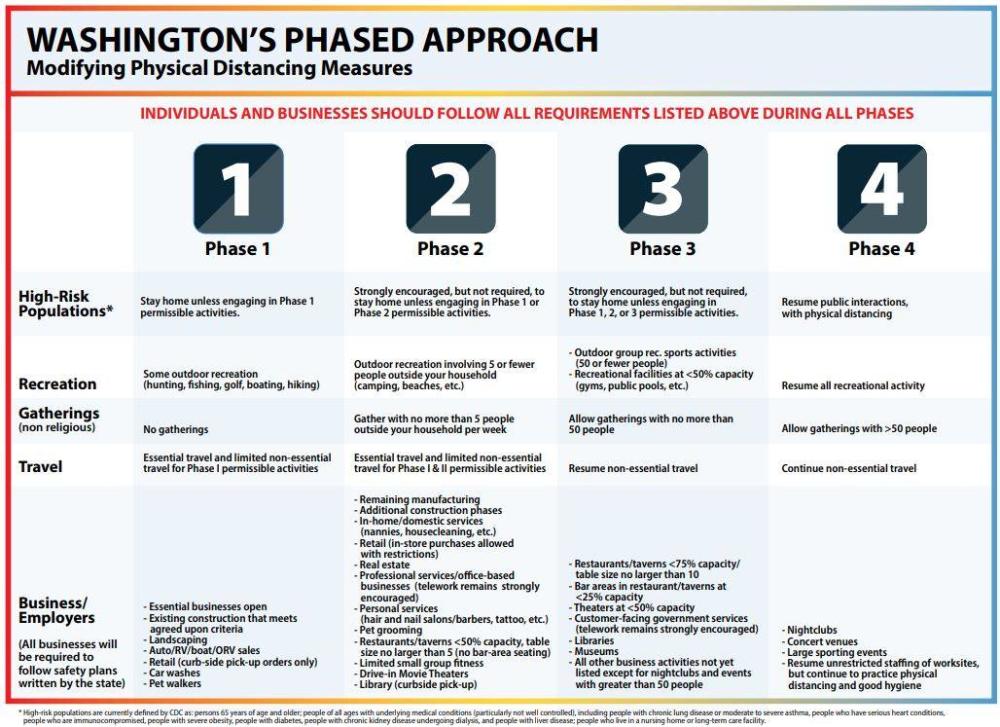 Washington State
Beginning June 26, a public health order requires face coverings when people are indoors in a public area, and outdoors in a public area when six feet of physical distancing can't be maintained. There are exemptions for people who are deaf or have hearing loss and those who have medical conditions that preclude them from wearing a mask. Children age 5 and younger are also exempt, though the order recommends facial coverings for children between the ages of 3 and 5. People engaged in recreation alone or with household members and those eating out at restaurants won't have to wear masks as long as they are properly distanced from others.
On May 29, Gov. Jay Inslee released an updated, county-by-county based "Safe Start" reopening plan for resuming recreational, social and business activities. This plan builds off the 4-phase plan he announced May 4. The updated proclamation is here.
Washington State Department of Health Coronavirus Page
Frequently Asked Questions
Please refer to the Centers for Disease Control's webpage for answers to frequently asked questions about the virus: https://www.cdc.gov/coronavirus/2019-ncov/faq.html
COVID-19 Related Blog Posts
Find virtual experiences, what restaurants are open to offer take-out and delivery, online local shopping, and more.
Event Cancellations
Due to public gathering restrictions and other health concerns, many events have been canceled or postponed in Clark County. Below is a non-exhaustive list of public-facing events that are no longer happening or have been moved to a different date.
July
All Ridgefield Raptors Home Games are cancelled.
July-Aug: Friday Movies at the Park, Six to Sunset Concert Series, Sunday Sounds Concert Series
July-Sept: Esther Short Farmers Market
July 11-17: Pride in the Park, Pride Parade, & LGBTQ+ Film Festival
July 17: Foreigner at Sunlight Supply Amphitheater
July 18: Cruise the Couve
July 18: Fire in the Park
July 23-26: 4 Days of Aloha
July 24-25: Camas Days
July 25: Luke Bryan at Sunlight Supply Amphitheater (postponed)
July 25: Ride Around Clark County
July 25: Blueberry Pancake Day at the Cedar Creek Grist Mill
July 31-Aug. 1: ilani Wine & Food Fest (Postponed)
July 31-Aug. 2: Clash at the Border (soccer tournament)
August
Aug. 1: NWCAVE's International Women's Festival
Aug. 1: Cold Brew Fest
Aug. 2-11: Clark County Fair
Aug. 7-8: Vancouver Brewfest
Aug. 8: Spartan Sprint at Washougal MX Park
Aug. 15-16: Viva Vancouver
Aug. 20-23: Vancouver Wine & Jazz Festival
Aug. 22: AJR with Quinn XCII at Sunlight Supply Amphitheater
Aug. 29: Treat Day at the Cedar Creek Grist Mill
September
Sept. 4-20: NW Natural Parade of Homes
Sept. 5: The Black Crowes at Sunlight Supply Amphitheater (postponed)
Sept. 6: Doobie Brothers 50th Anniversary Tour (postponed to Oct. 5, 2021)
Sept. 11: Disturbed at Sunlight Supply Amphitheater (postponed)
Sept. 12: Nickelback at Sunlight Supply Amphitheater
Sept. 17: Matchbox Twenty at Sunlight Supply Amphitheater (postponed)
Sept. 20: Sammy Hagar at Sunlight Supply Amphitheater
Sept. 26: Cornbread Day at the Cedar Creek Grist Mill
November
Nov. 7-8: Clark County Open Studios Tour
Closures
Big Al's - Sports Bar is open, bowling and arcade are closed until Phase 3
Clark County Event Center
Clark County Historical Museum
Fort Vancouver National Historic Site public facilities (including the Visitor Center)
Kiggins Theatre (and other theaters)
Water Resources Education Center
Grocery Resources
Hours for senior & at-risk shoppers
Safeway - Tuesdays & Thursdays 7-9 am
Target - Tuesdays & Wednesdays during first hour open
Walmart - Tuesdays 6-7 am
Fred Meyer - Mondays through Thursdays 7-8 am
WinCo Foods - Tuesdays & Thursdays 6-7 am
QFC - Mondays through Thursdays 7-8 am
Albertsons - Tuesdays & Thursdays 7-9 am
Costco - Tuesdays through Thursdays 8-9 am
Natural Grocers - Sundays 9-10 am & Wednesdays 8-9 am
Trader Joe's - Every day 8-9 am
New Seasons - Every day 8-9 am
Vancouver Farmers Market - Saturdays 9-10 am & Sundays 10-11 am
Note: Many grocery stores are requiring shoppers to wear face coverings.
Business & Employee Assistance
The Association of Washington Businesses (AWB) has a business tool kit for successful re-opening. The Greater Vancouver Chamber of Commerce has more info about re-opening communication and safety on their website.
Visit the Columbia River Economic Development Council (CREDC)'s website for resources and assistance related to COVID-19.
Washington State's Employment Security Department answers FAQs about COVID-19 scenarios and unemployment benefits.
A guide to CARES Act eligibility from U.S. Travel. 
Volunteer Opportunities
Become a Meals on Wheels driver to ensure no senior goes hungry or experiences social isolation.
While the Clark County Food Bank is strictly limiting the number of volunteers in the facility, they still need help. Email volunteer@clarkcountyfoodback.org to schedule a time to volunteer (must be scheduled in advance). Learn more here.