📷: Jayden and Kyle getting engaged on the Grant Street Pier (@jaydenmarie23)
Did you know that Vancouver USA was once ranked the fifth most romantic city in the U.S. by Amazon? Find out why with these Valentine's Day ideas that come straight from the people that know this city inside and out—our staff!
GAME WITH YOUR GUY/GAL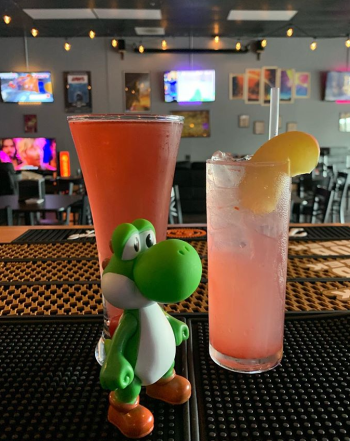 Jazlyn Faulstick – Business Development Support Specialist
"My husband and I like to keep our dates casual so for Valentine's Day we plan on going to Vault 31 Bar. They have a comfortable living room atmosphere with tasty food options, unique drinks, and lots of video and arcade games to choose from. It's a great place to spend quality time together while doing things we both enjoy."
Another casual date idea: Paint each other a new coffee mug or try your hand at glass blowing for a fun afternoon date at Live Laugh Love Art. Or pretend you're a kid again and jump around on Sky Zone's array of trampolines, ladders, and balance beams.
TRADITIONAL BUT TRENDY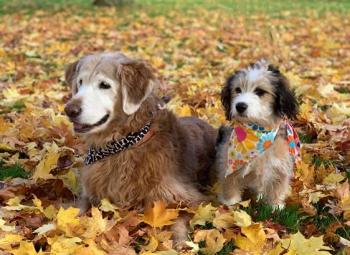 Chuck Ryder – Director of Business Development
"This year, my plan is to get off a little early from work, pick up my wife and two dogs (Luci 14 and Aspen 6 months), and head out for a walk on the Salmon Creek Greenway Trail. No matter the weather, these two love being outside and going for a walk. After our walk (and the dogs are back at home), an early dinner at Little Italy's Trattoria is my surprise. This is our favorite Door Dash/Uber Eats restaurant, so I'm looking forward to surprising Kelli with a night out at the restaurant."
Another wintertime walk and dinner option: Stroll along the water on the Columbia River Waterfront Renaissance Trail before enjoying a romantic meal at Warehouse '23 (reservations recommended). Listen to live music with a riverfront view, while you sip on a VDay cocktail.
THIS ONE'S FOR THE GIRLS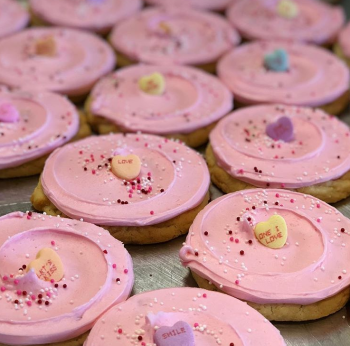 Taylor Pulsipher – Graphic Designer
"I will be celebrating Galentine's Day (on February 13) by heading downtown! We'll start at Treat Vancouver for some pre-dinner cookies and ice cream (there are no rules on Galentine's day). From there we'll head to Dediko to share a delicious meal of cheese bread and dumplings. We'll make our way to Niche for a round (or two) of wine before heading to Kiggins Theatre for Comedy on Tap. After laughing the night away, we'll close out the holiday with a toast to friendship & love at The Grocery Cocktail & Social."
Another Galentine's Day activity: Known to name a waffle after the Parks and Recreation character that coined the holiday, Syrup Trap is the place to start the day! Hit up JoJo + CoCo Boutique's evening of shopping, cocktails, treats, and a braid bar before heading to Elements Restaurant for a fancy feast and 50% off wine bottles (only on Thursdays).
A VDAY VACATION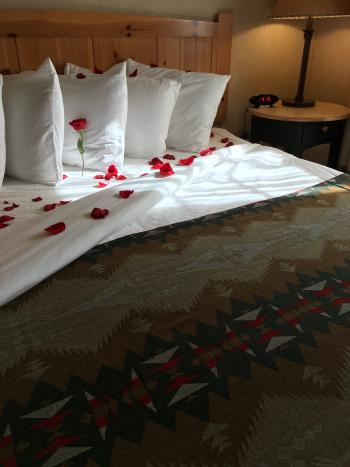 Erica Thompson – Communications Manager
"While I call it a 'staycation', The Heathman Lodge's Romance Package is well worth the visit—complete with rose petals, a bottle of champagne, chocolate, and a $50 credit to Hudson's Bar & Grill. I'd love to pair that with seeing Ruben Studdard at ilani and reminisce about the early American Idol days. Sipping a glass of wine under a Pendleton blanket by The Heathman's cozy fireplace before calling it a night? Sounds ideal!"
Another trip idea: Make Vancouver your "home base" while you explore a regional attraction, like Mount St. Helens, Long Beach, or the Columbia River Gorge. The Hilton Vancouver and Best Western Premier make for great jumping off points and a comfortable place to come back to for relaxing.
A HINT OF HISTORIC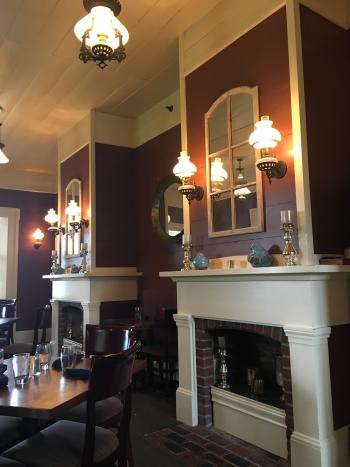 Michelle McKenzie – Director of Marketing
"I plan to meet up for happy hour at Amaro's Table (a convenient post-work location for me with killer food to boot) before burning off some calories with a walk over the Vancouver Land Bridge to the Historic Reserve. We'll wind our way through the beautiful grounds near Fort Vancouver to the Eatery at the Grant House on Officers Row. Weather permitting, we'll eat out on the patio and enjoy the views."
Another historic date idea: Check out the Clark County Historical Museum's new "History A-Brewin'" exhibit before grabbing a beer at Loowit Brewing, one of Vancouver's first breweries of the modern revolution of craft beer. The Pearson Air Museum is a free excursion, and next month you'll be able to pair the outing with a trip to Airfield Estates' newest tasting room on the waterfront, named after the WWII pilots who learned to fly on their farm in central Washington.