While it's no secret that summer looks and feels different this year, there is still plenty of opportunity to make the most out of the longer days and beautiful weather in Vancouver USA. Use this bucket list as a jumping off point or turn it into your full itinerary to take all the guess work out of making the most of your visit. For more information about what you can and can't do during each re-opening phase, as well as itineraries for each phase, click here. Don't forget your mask as they are required statewide in all businesses and where social distancing cannot be maintained. For more info on COVID-19 impacts in Clark County, click here. 
Wine your way through Downtown to the Waterfront
Vancouver USA is fortunate enough to have multiple wineries that call the area home. Head to downtown Vancouver USA to find eight tasting rooms within walking distance of each other, with plenty of public art scattered along the way to make the walk even more beautiful. Make it a whole day of tastings or grab a bottle to go. Bonus: We found the best pizza & wine pairings to turn your SW Washington wine adventure up a level. 
WINERIES LOCATED IN DOWNTOWN: Burnt Bridge Cellars, SuLei Cellars, Brian Carter Cellars, Pepper Bridge Winery & Amavi Cellars, Airfield Estates, Maryhill Winery
Work on your Brewcouver passport while enjoying a locally crafted beer on the patio
Grab a passport at any participating brewery, then work your way through the city, one craft brew at a time. Nervous about imbibing inside? Find breweries with patios here or grab a growler or 6-pack to go.
Experience the historic Fort Vancouver gardens in full bloom
While the Fort itself is temporarily closed due to COVID-19, you can still access the grounds around the National Park. Step back in time and experience heirloom plants and floral blooms as you roam the historic reserve. Head downtown after your walk and enjoy some delicious grub from Slow Fox Chili in the Columbia Food Park outdoor dining area.
Fill your camera roll with Instagram-worthy shots on a scenic drive to regional attractions & end with a sunset picnic at the lake
The doors are currently locked, but the Cedar Creek Grist Mill offers picturesque views waiting to be perfectly captured while you explore the forested grounds. Grab a picnic kit from Niche Wine Bar in downtown, then hit the road. Once you've snapped the perfect pic for the 'Gram, head to Lake Merwin to enjoy a picnic and sunset on the beach.
Want more takeout ideas for your picnic? Click here.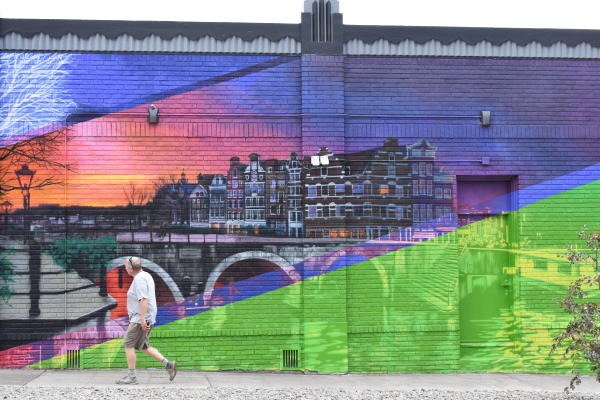 Go on a downtown mural tour then take your turn being the artist
Grab a map, some comfortable walking shoes, and head downtown. Fuel up with breakfast at Mon Ami, then find colorful larger-than-life murals throughout the downtown core, along with public art installations along the way. End your day by putting yourself in the artist seat and color your own versions using our free mural coloring book download!
Support a historic theater & have a movie night in the comfort of your hotel room or home
Head to Kiggins Theatre Friday night or Saturday afternoon to snag some popcorn to go, then rent a movie from their virtual screening room. Complete the night with dinner from neighboring Vinnie's Pizza and a 6-pack from Trusty Brewing.
Make Vancouver USA your home base & head out on a day trip to Mount St. Helens
Find yourself in the shadow of the infamous volcano within an hour and a half drive of downtown Vancouver. While the visitor center is temporarily closed, you can still access Coldwater Lake and family-friendly hiking spots like Hummocks Trail.
Participate in the first virtual Cold Brew Fest with Kafiex Roasters on August 1
Learn about the process of coffee from farm to cup while watching the first ever Virtual Cold Brew Throwdown live. Fuel up for the event at one of our downtown roasters: Relevant Coffee, Kafiex Coffee Lab, and Compass Coffee Roasting.
Take the trail less traveled & experience a lesser-known hike while soaking up all the beauty SW WA has to offer
Drive north to Whipple Creek Park for an escape into 300+ acres of forested land with more than four miles of trails, or try Lewisville Regional Park with wide open fields that border the East Fork Lewis River. For more of a challenge, head east to The Columbia River Gorge to access longer hikes like Hamilton Mountain. Be sure to check the status of each hike before leaving, and remember to recreate responsibly.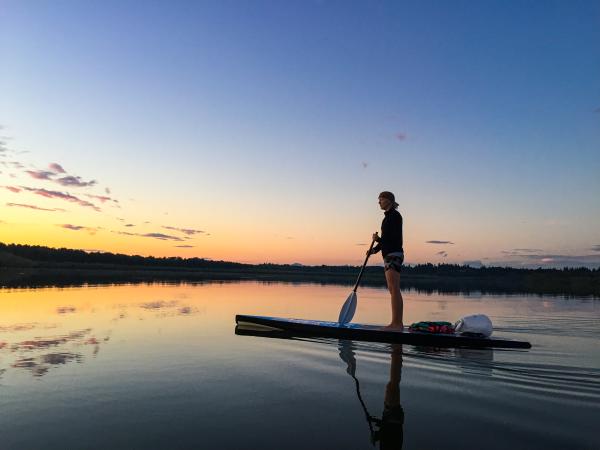 Dive into a local swimming hole or rent a paddle board & spend the day on the water
Cool down with a dip in a local swimming hole and end the day with a cold treat. Not feeling like braving the chilly water? Head to Lacamas Lake and rent a paddle board from Sweetwater SUP Rentals (you may still get wet!).
Hop on a Zoot Scoot & explore downtown in a new and exciting way
Recently opened Zoot Scoot in downtown Vancouver USA offers hourly and day rentals of their big wheel electric scooters. Zip around downtown to the Waterfront for a unique and fun way to spend an afternoon exploring.
Go on a cookie crawl through downtown
Who says crawls have to involve pubs? Spend the day working your way from Uptown to the Waterfront while enjoying sweet treats along the way. Start with Simply Sweets (insider tip: cupcake BOGO happy hour goes from 2 to 3 p.m.!), work your way south to Bleu Door Bakery, Sugar and Salt, and Treat (note: they are currently requiring pre-orders). Work off some of the sugar with a stroll through the oldest public square in the state of Washington, Esther Short Park.
Let your taste buds travel from South America to Europe without ever leaving Vancouver
Find authentic cuisine from all around the globe in the International District. Get it to-go to participate in Takeout Tuesday, and post it to Instagram with the tag #SupportVanWA for a chance to be featured.
Stock up on fresh, locally grown produce at the Vancouver Farmers Market
Four different markets take place throughout Clark County on five days during the week. Find the one nearest your hotel and stock up on fresh fruits and veggies, flowers, artisan goods, and more.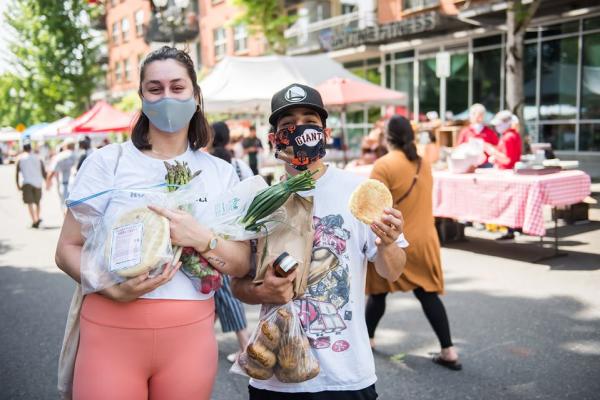 Take a masked selfie around Clark County & share on social media for the chance to win one of five $100 gift cards
From now until August 24 we're giving away five $100 gift cards to the local business of your choice just for sharing a masked selfie using the hashtag #MaskUpClarkCounty on Instagram, Facebook, or Twitter. For more information, click here. (photo by the Vancouver Farmers Market)