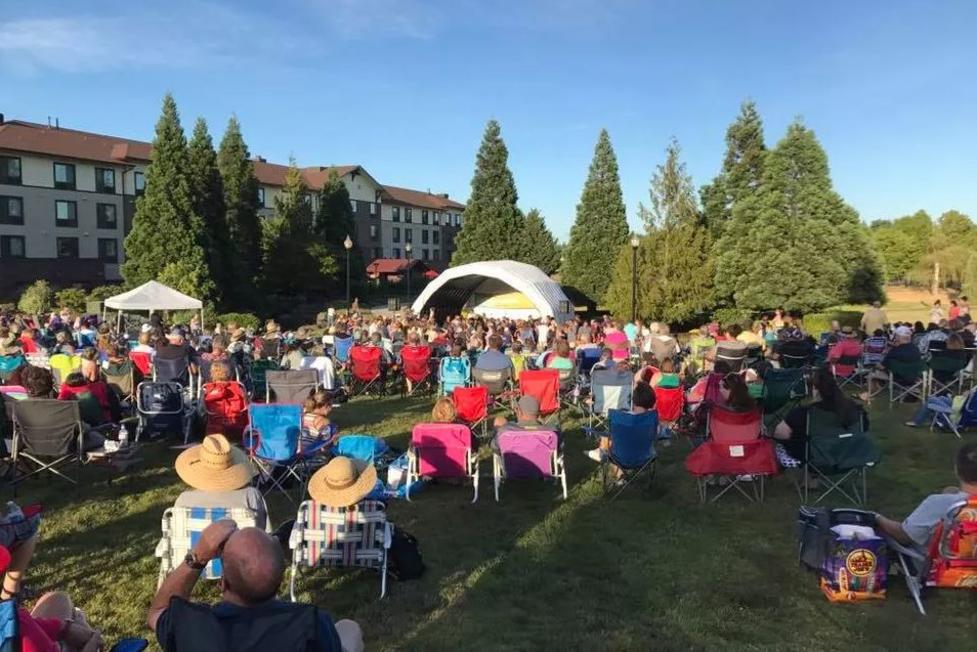 With sunsets after 9 p.m. and temperatures rising into the 80s, summer evenings in Vancouver are made for comfortable outdoor outings. Find these free concerts scattered around the city and movies in open-air settings.
CONCERTS
Columbia Tech Center Sunday Sounds Concert Series: East Vancouver, Sundays (July 8-August 12)
Riverview Six to Sunset Concert Series: Downtown, Thursdays (July 12-August 16)
Imagine Homes Realty Noon Concert Series: Downtown, Wednesdays (July 11-August 15)
Sunday Live Music Jams at Heisen House: Battle Ground, Sundays (May 27-September 23)
Summer Concert Series at Three Brothers Vineyard & Winery: Ridgefield (July 15, July 29, August 19)
PRO-TIP: While it doesn't fall into the 'free' category, general admission lawn seating for big names (think Kendrick Lamar and Kenny Chesney) at Sunlight Supply Amphitheater usually don't exceed $30. Bring a blanket and enjoy the sunset while listening to your favorite performer. Too cool off indoors, head to the Muze Lounge at ilani Casino Resort for live performances at no cost.
MOVIES
Friday Night Movies in the Park: Locations rotate, Fridays (July 6-August 10), movies include: Star Wars: The Last Jedi, The LEGO Ninjago Movie, Transformers: The Last Knight, Wonder Woman, Coco, and Jumanji: Welcome to the Jungle.
Movies on the Lawn at Rusty Grape: Fridays (July 6-September 14), movies include: Independence Day, La La Land, Don't Tell Mom the Babysitter's Dead, Jumanji, Romy and Michele's High School Reunion, Jaws, The Burbs, The Sixth Sense, Men in Black, and Titanic.
PRO-TIP: Bring a picnic dinner or take advantage of the many food trucks rolling around Vancouver. Esther Short Park is frequented by Ingrid's Good Street Food and Funky Fresh Juice Co., and others making special visits for events. Rusty Grape offers wood-fired pizza and Backyard BBQ to be enjoyed with house-made wine and cider.